Tiebacks / Soil Nails

Advantages
Predictable Results
Installs in any weather
Easy to store, reusable
Screws into place (not predrilled)
Site-specific to conditions and loads
Terminations for various threadbars
Less equipment than grouted tendons
Bearing device, not friction dependent
Extendable with bolted joint connection
Labor Saving –  as few as four on a crew
No concrete trucks or grout pumps needed
For more information, the links below provide brochures outlining CHANCE® Helical Tieback Anchors and SOIL SCREW® Retention Wall System.
Boardwalks / Walkways
Helical Concepts, Inc. is proud to provide an economical and environmentally sensitive solution for areas that require deep foundation solutions.  For most projects, the use of portable installation equipment is utilized where there is limited access situations.Advantages
No Soil Excavation
Minimal Impact on vegetation
Install in limited-access areas.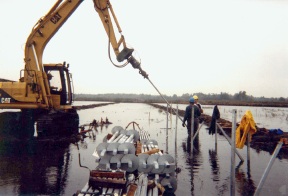 The anchors are pre-engineered to transfer projected loads to bearing-capable strata below weak soils.  This isolates the structure's integrity from seasonal changes in the surface-layer conditions.  To reach a sound geological footing, shaft extensions may be added during installation.  Additional drawings can be found in our Technical Section under the CAD Drawings Tab.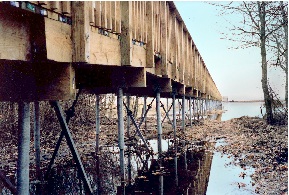 Below is a link to a brochure outlining the Walkway Support System.