We cover Texas, Oklahoma, Louisiana, Arkansas, and New Mexico.
Since 1991, the emphasis of our site is to provide product information, company contact information, and list of certified installers.
Helical Concepts Incorporated
REGIONAL DISTRIBUTOR FOR CHANCE CIVIL CONSTRUCTION & ATLAS RESISTANCE PIERS
At HCI we have been providing outstanding products and services for our customers since 1991. We take pride in our ability to efficiently respond to your needs under strict time constraints. We specialize in
CHANCE®
Helical Piering System and Atlas Resistance Piers. Located in Wylie, TX we serve Texas, Oklahoma, Louisiana, Arkansas, and New Mexico. Contact us and let us know how we can help you.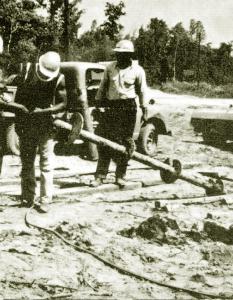 WORKING FOR OVER 60 YEARS
The earliest known use of an anchor foundation was for the support of lighthouses in tidal basins around England.  A blind English brickmaker, Alexander Mitchell, is credited with the design of a "screw pile" for this purpose in 1833.   
FAST INSTALLATION, NO VIBRATION
Atlas Resistance® Piers have been used to restore and/or stabilize homes and commercial structures that had settled. True end-bearing Atlas Resistance Piers are sold and installed only by contractors trained by Atlas.